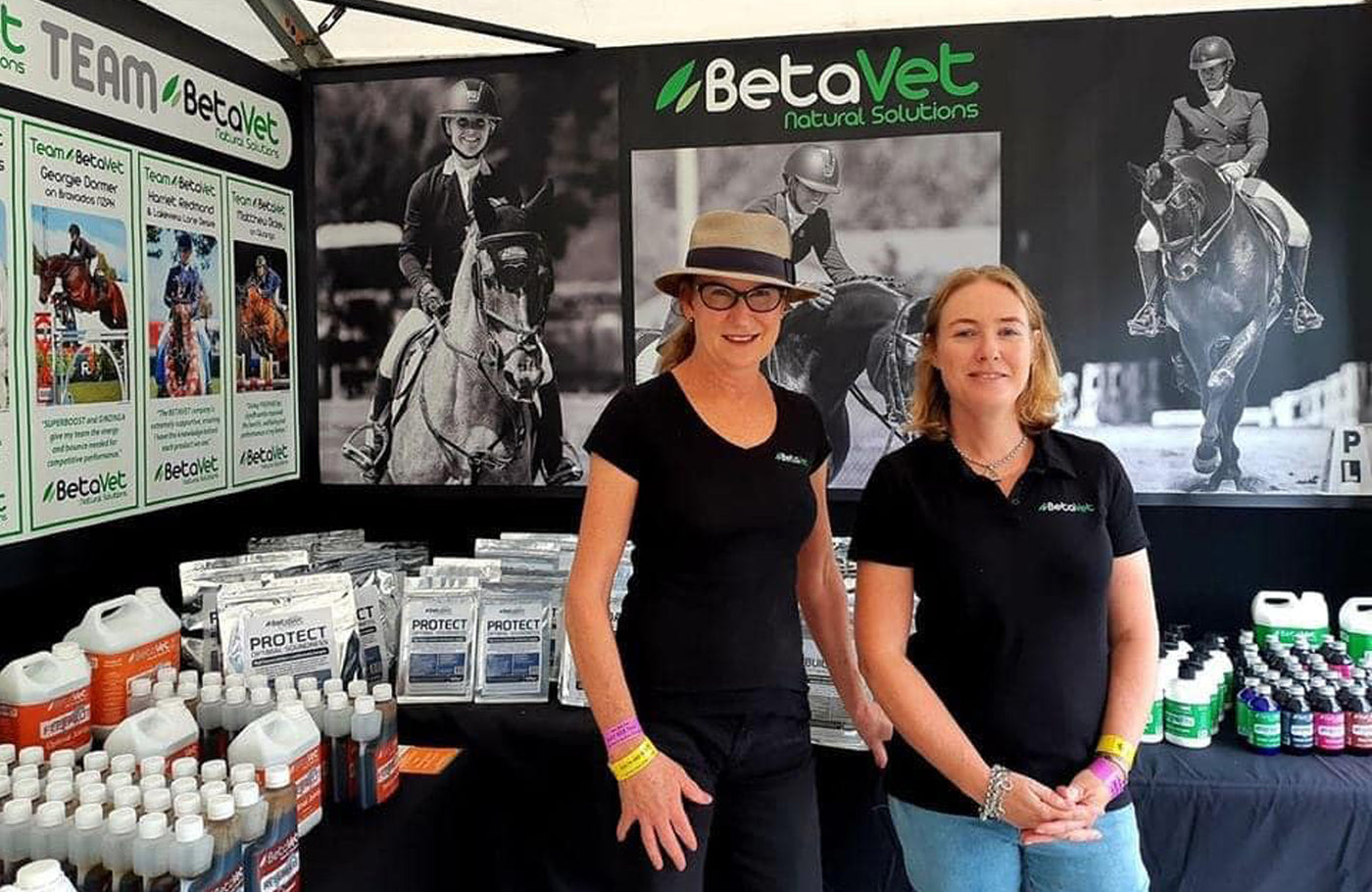 Managing Director
Kate Fraser
BetaVet's founder, Kate Fraser, wants to raise the bar in the competitive sport horse industry providing healthy, plant-based products designed for equine health.
Her vision is global as well — she is driving change in New Zealand's equine supplement market by expanding the international market for unique, effective and extensively researched herbal therapeutics.
Kate Fraser founded the iconic herbal brand Herbs of Gold in Australia, and went on to build a multimillion-dollar business. Her drive for innovation and her in depth knowledge of the benefits of herbal medicine now drives the BetaVet business in natural equine health.
Kate says "Horses are athletes. Like human athletes, the same principles apply. Our products are not performance enhancers, they are designed to support horse health through times of stress and the rigours of competition they endure week-in, week-out".
BetaVet provides the ultimate complementary equine healthcare to maximise potential in the horses and give peace of mind for owners.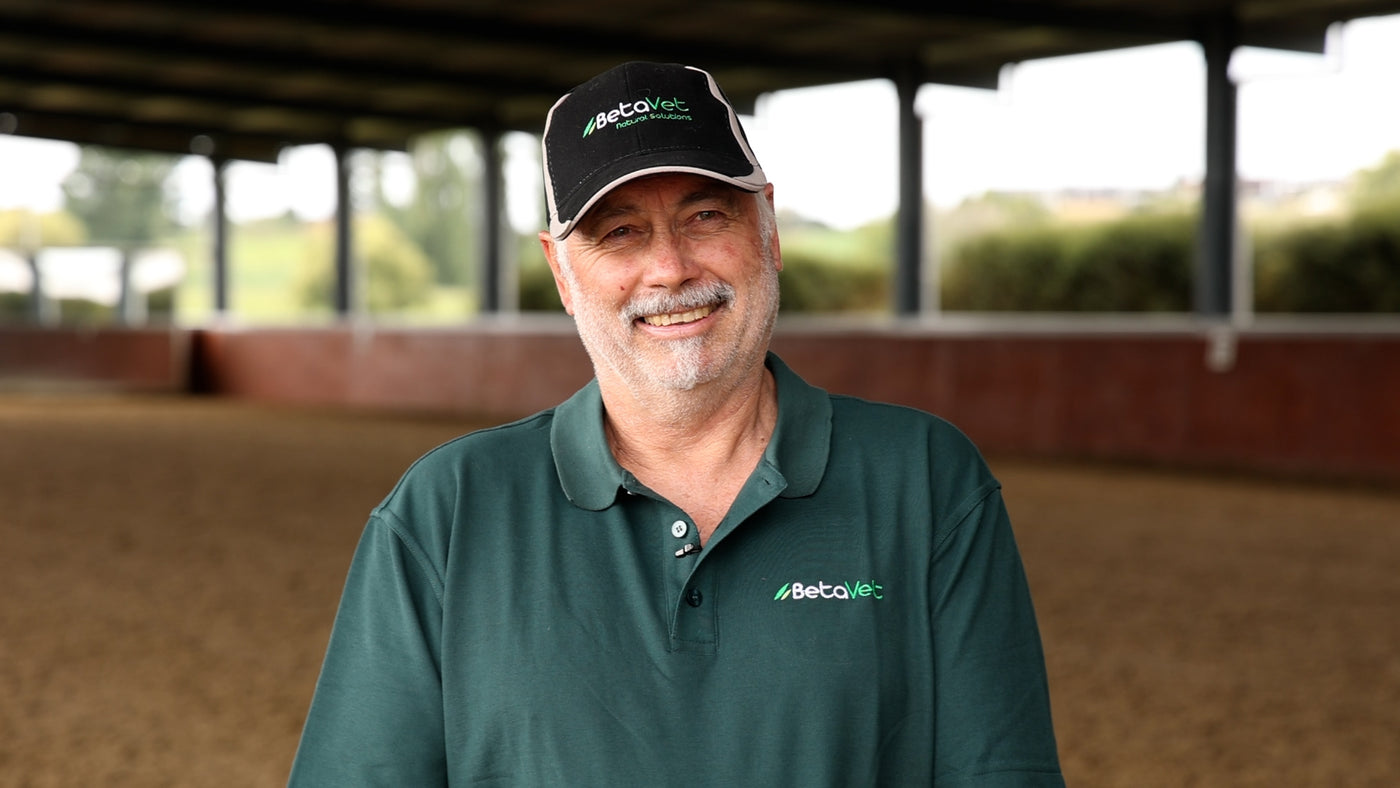 Technical Director
Paul Mitchell
One of the core principles I've learnt is the importance of the quality in the medicines we use for our patients.
I strive to maintain 'Quality and Efficacy' as a cornerstone philosophy.
My background in organic horticulture has kept alive an avid interest in all things organic and chemical free. I am in a great position to highlight the importance of quality, not only when it comes to the medicines we put into our bodies, but also the quality of what we use to support and treat the animals.
My contribution to BetaVet is to maintain and elevate the already high standards of products and support through my thirty years experience as a practitioner and business owner in the natural health industry.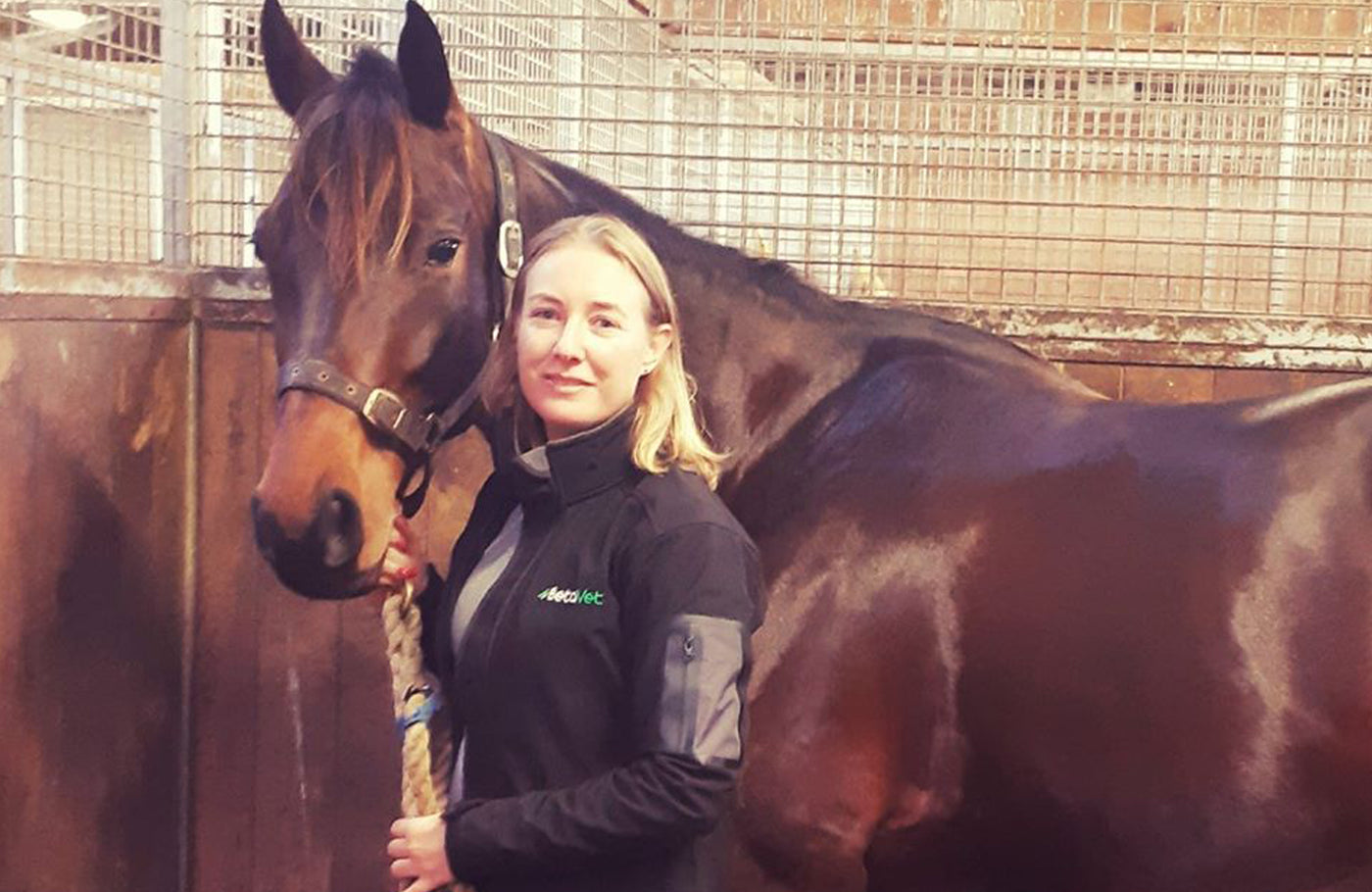 National Sales And Brand Manager
Kylie Unsworth
I am absolutely over the moon to be part of the BetaVet team as National Sales and Brand Manager.
I have been involved with horses for most of my life and went through the ranks at Pony Club, hunted, worked in the racing industry abroad and competed in the Show Jumping arena.
In more recent times, my husband (Ike Unsworth) and I managed Mount View Sport Horses. We bred, raised and produced jumping horses right up to World Cup level for a number of years. I previously worked at Farmlands in Tauranga, where I received some amazing feedback from customers about the products in the BetaVet range so it was only natural that I wanted be part of the "BetaVet Journey!"
South Island Sales Representative
Ashley Harrington
I am absolutely delighted to be a part of the BetaVet team as the South Island Sales Rep. I have been involved with horses all my life, with my father Russell McKay being a horse trainer.
I started in the game as an apprentice jockey, now I'm training thoroughbreds alongside my father at Riccarton park.
I am lucky enough to be a part of both racing codes with my husband Jack Harrington training harness horses. We both use the BetaVet products on our racing teams, and we are able to see the huge benefits for ourselves. I am proud to say both our teams are looking and feeling great.
I feel very blessed to be able to do two things…I absolutely love training and racing horses and being a part of products that help with horses overall wellbeing and performing at their very best is the icing on the cake!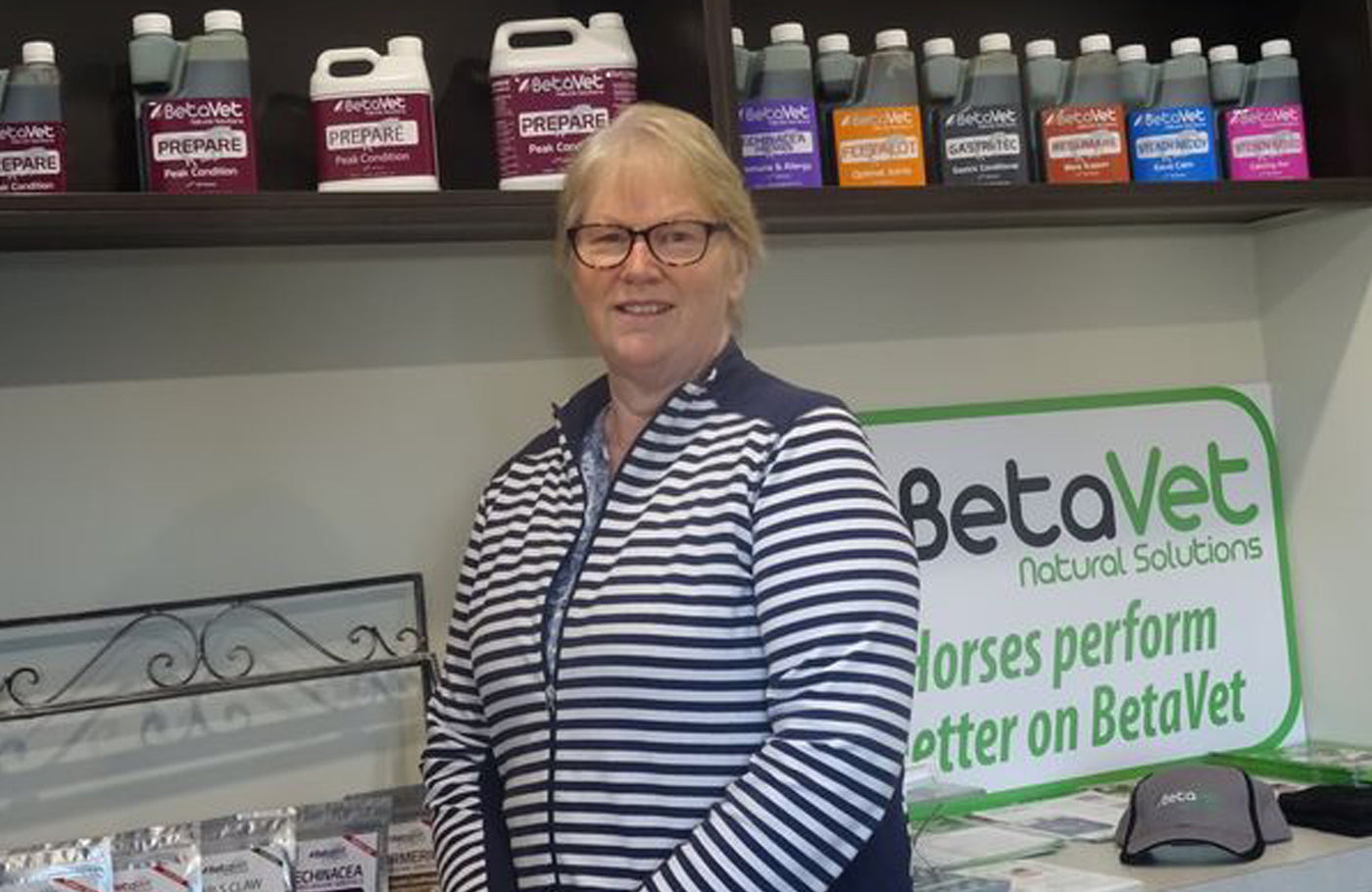 Warehouse Manager
Sue Scoringe
From a work history in dispensing, making and then wholesaling pharmaceutical products to a move into the natural health industry, it seemed a natural progression to combine my knowledge of manufacturing, management and logistics and a love of animals to be a part of the BetaVet team.
I made the first BetaVet formula in November 2008 and have proudly watched the company grow with a fantastic team of dedicated people who have the singular goal of providing quality products that will improve the health and wellbeing of horses, from a family pet to top performing horses in all their disciplines of sport.
The move in 2021 to our own manufacturing and distribution facility is an exciting step for the future of the company.
It is my intention to ensure that the company will always strive to be as sustainable as possible, to be aware of our carbon footprint and look at ways we can continually make good choices for the environment.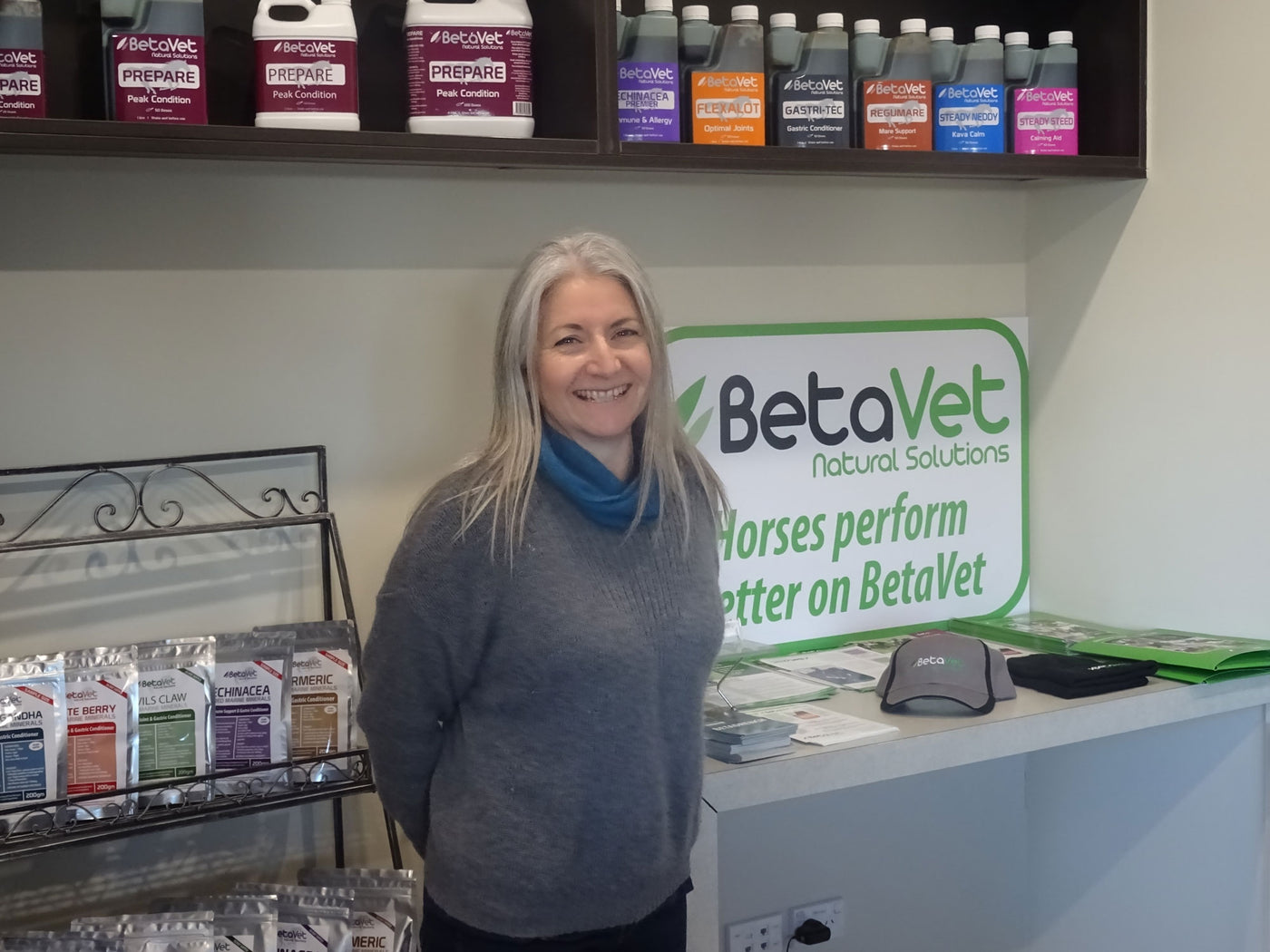 Administration Manager
Catrina Collins
I joined the BetaVet team full time when we shifted to our new premises here in Christchurch in April 2021.
This role provided an exciting opportunity to get involved with many more aspects of the business, now incorporating manufacturing as well as administration support etc.
As a trained herbalist I am very happy to be utilizing my practical herbal skills and be part of a service providing support for natural animal health.
I have many years of experience working in a herbal dispensary providing over-the-counter health advice, as well as administrative/customer service for a wholesale distributor of natural health products, and also previously working part-time for BetaVet with admin.
It's great to be part of this busy BetaVet team!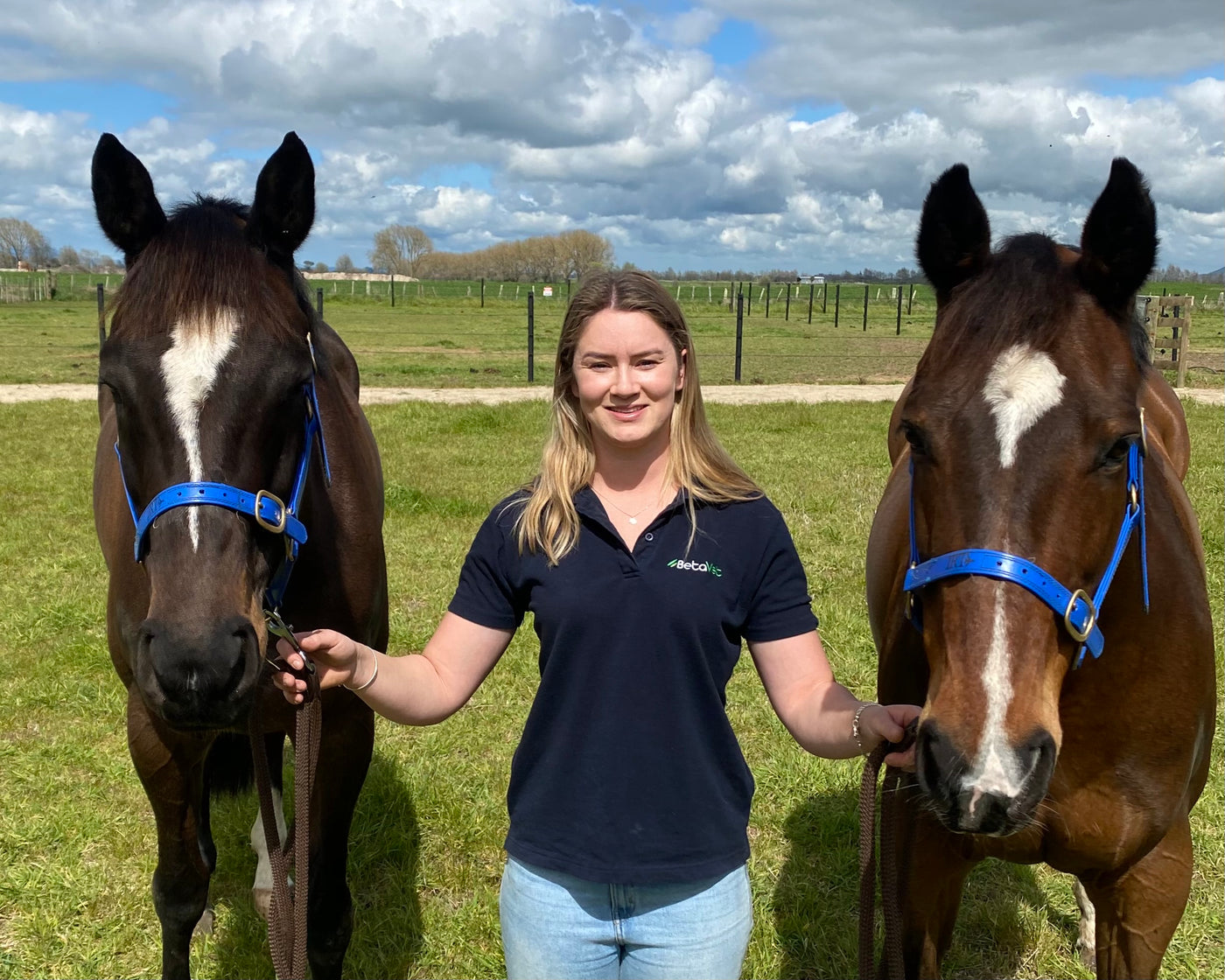 Sales Support
Sophie Fisher
I am thrilled to be joining the BetaVet team in the North Island.
I'm a show jumper based just out of Cambridge on our family dairy farm.
We have a team of show jumpers and small breeding program, breeding a few warmbloods each year.
I studied a Bachelor of Agricultural Science at Massey University before gaining experience in show jumping, thoroughbred and harness stables. I recently spent six months in Australia working and competing two of my own horses. On returning home I have built up my team of jumpers and this role with BetaVet fits in perfectly alongside my own horses!
Before joining the BetaVet team my horses were on a couple different BetaVet products, now that I have added a few more to their daily routine they are absolutely thriving!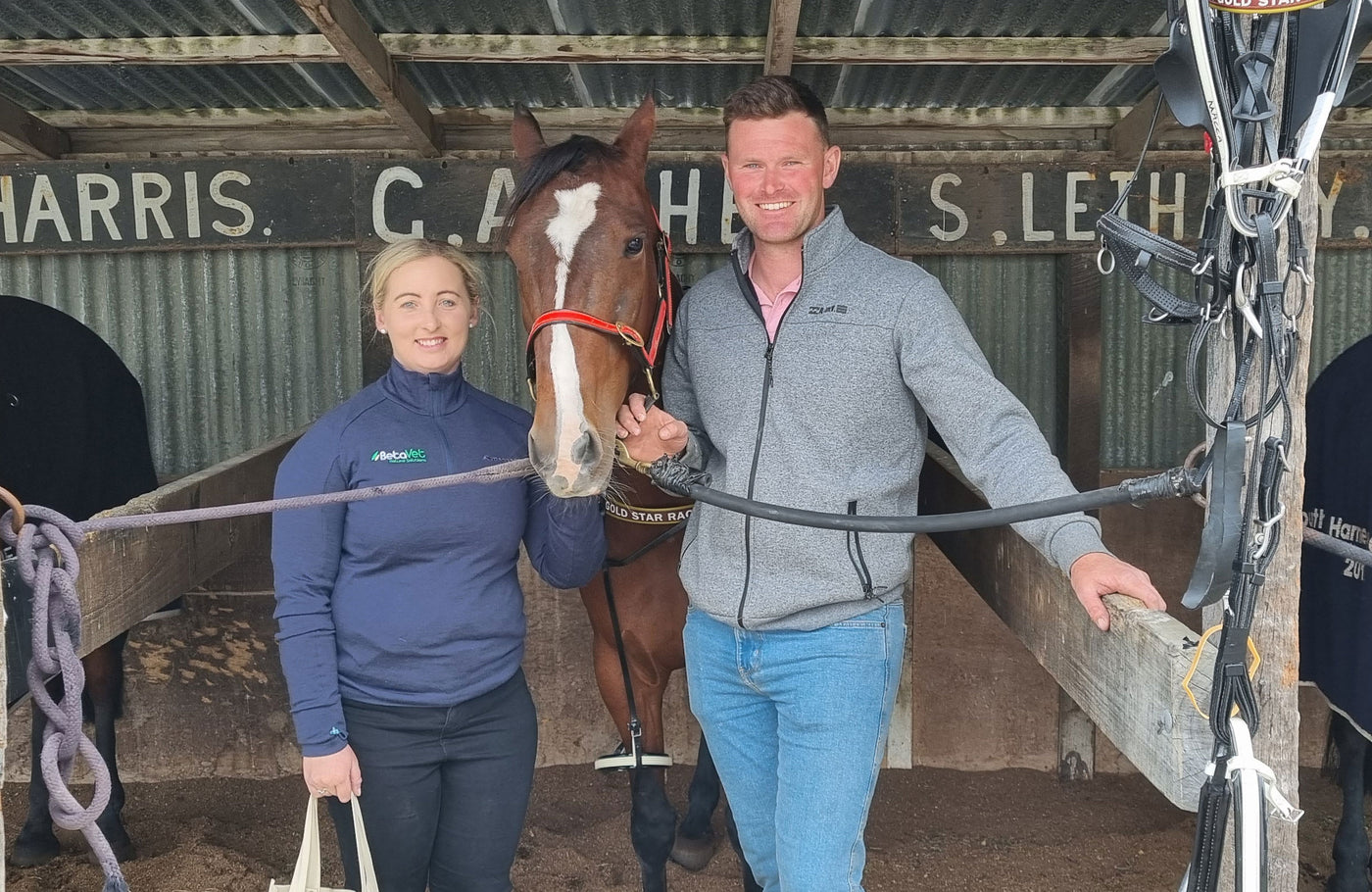 Jack Harrington
I am really excited to be an official part of the BetaVet team.
I've been a professional harness trainer for 10 years now and have used the BetaVet range on all of our race horses, as well as our breeding and young horses.
After seeing what great results the products have, it was only natural I jumped at the opportunity to become part of the sales team when it became available. Not only do I have more than a foot in the door in the harness code but my wife (Ashley Harrington) and father in law (Russell McKay) train thoroughbreds in partnership, giving me more access to the wider racing community.
Ashley who also works for BetaVet provides us with a great tag team opportunity to help the company expand and grow.